Saturday, May 4, 2019
8:00 am - 1:00 pm
St. Catherine's Church, 1058 Ridgewood Drive
This event has already occurred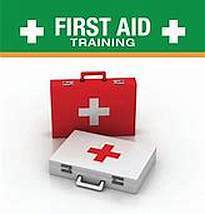 A CPR/AED Level C training course will be offered on May 4 for any St Catherine's parishioners, Preschool teachers/parents and building users. The 5 hour first aid training will be provided by registered providers, Life Preservers and a light lunch will be provided by donation.
Details: The course covers the skills needed to recognize and respond to cardiovascular emergencies and choking for adults, children and babies. CPR-C training includes how to perform rescue breathing and using an automated external defibrillator (AED) as one is going to be installed at the church.
Who? All interested parishioners and tenants above the age of 18. No training prerequisite is required, only the ability to do the physical aspects of the course to obtain a certificate.

Where? St Catherine's Anglican Church gymnasium

When? Saturday May 4th 8am-1:30pm

Cost? $65/person
Register by completing the pdf form below, and returning this to St Catherine's administration desk during office hours before 20th April 2019 with your payment of $65. Places are reserved when payment is received.
For for more information - 604-985-0666/[email protected]