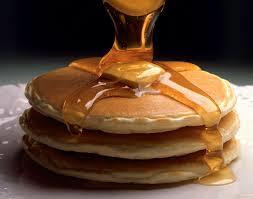 Well over 150 adults and children attended the Annual Pancake Supper on Tuesday. A good number of Volunteers prepared the gym by putting up tables and chairs; prepared and served the pancakes, sausages, Ice Cream, and coffee/tea/juice; cleared up the kitchen & gym after the meal. Our St. Catherine's Preschool staff provided wonderful activities for the children. Peter Goodwin, chair of our Diocesan PWRDF committee, provided a display of projects sponsored by the Primate's World Relief & Development Fund (PWRDF).
After expenses, some $690.00 will be sent to PWRDF, from St. Catherine's, to support their work as a result of the Supper.
Our thanks to all the volunteers who gave of their time to make this project possible.
Submitted by John Luccock