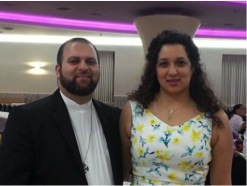 A note from Janet Morris -
Since 2009 in our Prayers of the People St. Catherine's has remembered Holy Family Episcopal church, Reineh in the Galilee. Unfortunately we lost contact with the parish when their rector was appointed to another ministry in the Jerusalem & Middle East diocese.
The Rev. Nael Abu Rahoum, pictured here with his wife, Mira, is rector of Christ Church in Nazareth. Recently we wrote to him, inquiring about a prayer link with that parish. He replied that he would be delighted so from now on we will be praying for him, the people of Christ Church and all Christians in the Land of the Holy One and they will be praying for St. Catherine's.