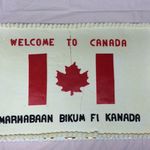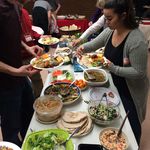 The hall at Gloria Dei Lutheran was hopping on the evening of Sunday, January 24, as members of REST (Regional Ecumenical Sponsorship Team) and other church representatives gathered to welcome our sponsored family from Syria.
A glorious array of buffet dishes, including halal, ethnic and vegetarian dishes along with standard Western fare, kept people coming back for more, and a wonderful welcome cake was made by students at Vancouver Community College.
A highlight of the evening was a (translated) speech given by Honada, the mother. Her ebullient embrace of her new country, her gratitude to the processes and people that enabled her family's arrival here, and her enthusiastic friendship were very affecting, as was the singing of O Canada that moved her to tears.
For more information about St. Catherine's role in the refugee sponsorship, which will include re-settling a young Somalian man, please see Chris Trendell. For up-to-date information on how the family is settling in, interesting stories, opportunities to help out, and even some Swahili phrases with which to welcome Ali, check out the REST blog regularly!